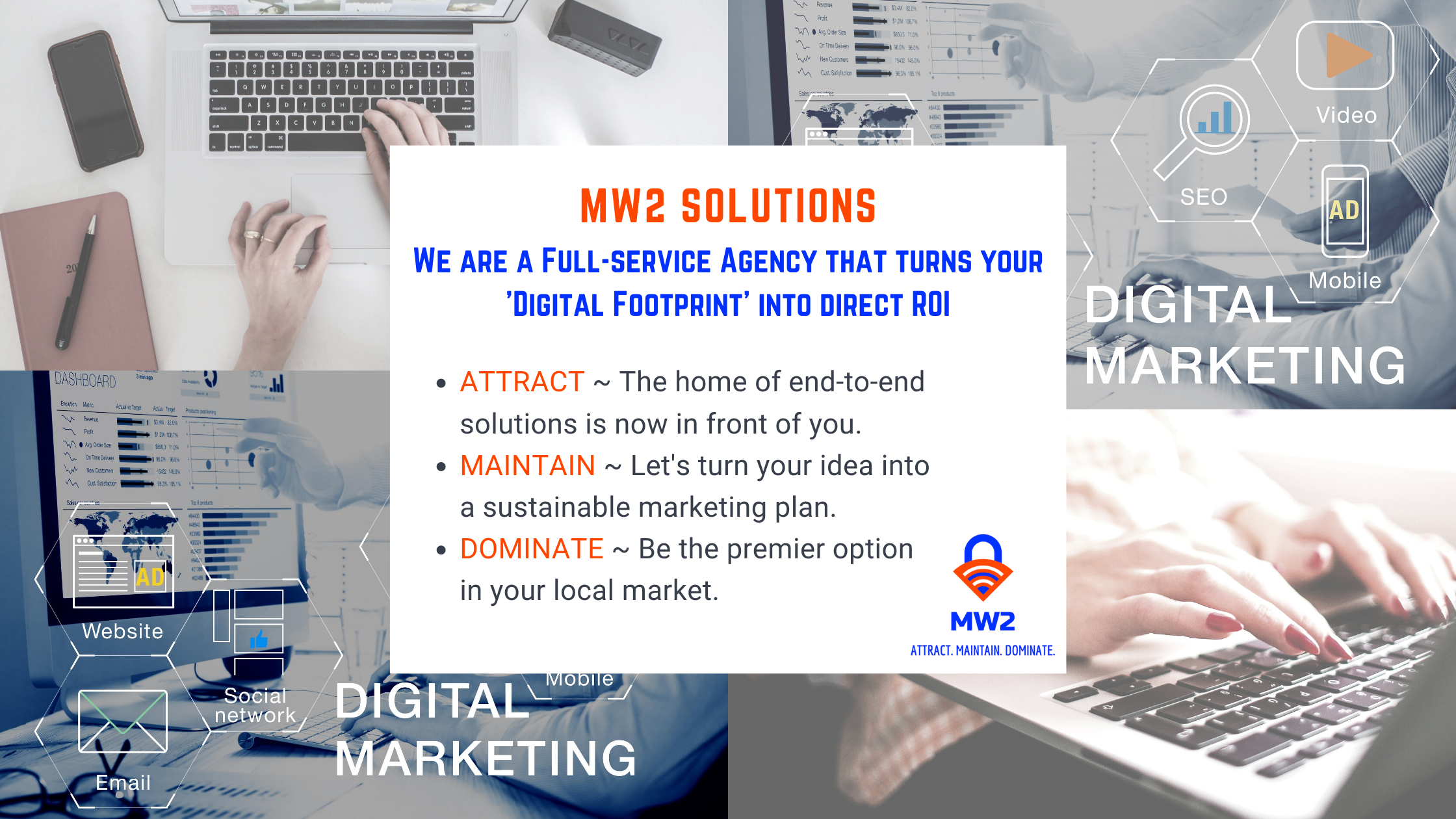 Hello World!
Welcome to MW2 Solutions.
MW2 Solutions is a full service digital marketing agency that offers a proprietary business app and platform that is customized and tailored for your business and your specific industry needs. MW2 utilizes real-time analytics to be able to analyze data for your business as soon as it becomes available and react without delays so your business never skips a beat. We offer professional SEO services with full transparency, impeccable customer service, and some of the most dedicated experts in business. Our company is an end-to-end suite of digital marketing solutions that is ready and excited to grow your business alongside you.
All you need is MW2
Your digital marketing strategy is the series of actions that help you achieve your company goals through carefully selected online marketing channels specifically tailored for your unique business. These channels include paid, social, and owned media, and can all support a common campaign around your business. Depending on the scale of your business, your digital marketing strategy might involve multiple digital strategies — each with different goals — and a lot of moving parts. But coming back to this simple way of thinking about strategy can help you stay focused on meeting those objectives. MW2 will solve for all of that.
What We Do
Our company provides organizations custom solutions to help their business grow while simultaneously engaging your customers, generating a positive ROI, and increasing efficiency in your business model. From acting as your strategic creative consultant to simply kicking off a new website, our dynamic team offers a complete stack of digital creative services tailored to your needs.
Engage and Captivate Your Audience
We'll both become experts on who your customers are with detailed persona development that road-maps concise strategies for targeting prospects and converting to buyers. Our diverse team of in-house designers, strategists, and data analysts helps ensure that effective long term strategies are paired with the quick wins.
MW2 Client Dashboard
Intro video of our proprietary personalized app that allows our clients to have a seamless and effective approach to manage their customers, reviews, social media, events, email campaigns and more all in one place. This allows for all of your information to support each other and keep in sync in a seamless fashion across the board so that you can remain focused on your clients.
Online Presence
MW2 is constantly monitoring, analyzing, and computing your company's online data to ensure that your online presence maintains it strength so your business stays at the top and constantly in front of your target markets.
📈 📊 📉⭐️🌐🏆 ✅
MW2's platform seamlessly integrates your SEO, social media and email marketing to simultaneously work towards one common goal…maintaining and dominating your online presence.
🌐 💪🌎💯
MW2 Solutions~ ATTRACT. MAINTAIN. DOMINATE.
➡️Learn more @mw2solutions www.mw2solutions.com